Collision Repair Services at Newark Autobody
43055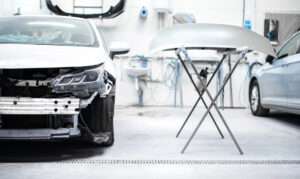 Don't drive around with a damaged car! It gives the wrong impression to others and leaves your car vulnerable to the elements and further damage. 
The experienced technicians at our autobody shop can fix your car quickly and efficiently. We use the latest technologies and the highest-quality materials to ensure that your car is restored to its original pre-accident condition. Your car will be repaired to the highest standards to pre-accident condition so you can safely and confidently drive it again. Newark Autobody is the smart choice for collision repair in Newark, Ohio, and surrounding areas.
Our autobody services include:
Replacement of bumpers, fenders, and other exterior components
Restoration of minor dents and scratches

Paint matching and auto paint services

Glass repair and replacement services

Interior repair and upholstery replacement services

Alignment and suspension services

Windshield replacement
Wheel and rim repair
We understand that your car is important to you and we want to make sure that it is fixed correctly and quickly so you can get back to enjoying your car. Contact us today to schedule an appointment and we will make your car like new again!
Replace Exterior Components
Our autobody repair process may include the replacement of bumpers, fenders, and other exterior components on a vehicle and can involve removing the existing components and replacing them with new components. This process can also involve removing any rust spots, sanding down the surface, and applying primer or paint as needed. If the new parts do not fit perfectly, they may need to be adjusted or re-drilled to fit properly.
Additionally, any existing hardware may need to be replaced with the correct size and type of hardware. Finally, any new components may need to be sealed with a rubber sealant to ensure a good fit and to prevent water damage.
Fix Minor Dents & Scratches
Fixing minor dents and scratches may involve sanding down the affected area and filling in any gaps with a putty or filler material, then sanding again to smooth the surface and prepare for paint. Depending on the severity of the damage, more specialized tools and techniques may be used.
Learn about our Paintless Dent Repair Service
Auto Paint and Paint Matching
Paint matching and repair services involve identifying the exact color and type of paint that needs to be used to repair a certain area or item. This includes matching the paint to the original color and texture, as well as determining the best products and methods to use to ensure a quality finish. This type of service may also include repairing any minor damage that has occurred to the surface, such as chips, scratches, or dents. In addition, other services may include sanding, priming, and sealing the surface.
Auto Glass Repair and Windshield Replacement
Glass repair and windshield replacement services refer to any kind of work that involves repairing and replacing glass components in a vehicle. These services typically include inspecting the broken glass, removing the broken glass, measuring for a replacement, ordering the new glass, and then installing the new glass.
Special tools and techniques are often utilized to ensure that the glass is properly installed and sealed. Depending on the type of glass, a professional technician may be needed to complete the repair or replacement process.
Interior Repair and Upholstery Services
Interior repair and upholstery replacement involves repairing any damage to the interior of a vehicle, such as tears or holes in the seats, carpets, or other surfaces. It also involves replacing any worn or torn upholstery, such as seat covers, headliners, door panels, and other fabric parts. This can involve sewing, patching, gluing, or other methods of repair and replacement. Additionally, any hardware such as buttons, fasteners, and other items may need to be replaced.
Alignment and Suspension
Alignment and suspension repair services refer to the process of diagnosing, inspecting and repairing the alignment and suspension of a vehicle. This service involves adjusting the angles of the wheels so they are perpendicular to the ground and parallel to each other.
Suspension services involve inspecting and replacing worn out suspension components such as shocks, struts, springs and bushings. Proper alignment and suspension are essential for a safe and comfortable ride as well as improved vehicle handling.
Additional Information
The following terms are frequently used to find us, and are included here for your information. Do not hesitate to use these phrases to find us or refer to us online.
Windshield Repair Newark Ohio
Windshield Replacement Newark Ohio
Certified Collision Repair Newark
Auto Body Repair Newark
Auto Body Shops Near Me
Collision Repair Shop Newark
Glass Repair Newark
Auto Body Painting Newark
Auto Body Detailing Newark
Auto Accident Repair Newark
Dent Repair Newark
Autobody of Newark
Auto Body Shops
Autobody Glass

Body Shops Near Me
Body Shops Newark Ohio
Affordable Auto Body Newark
Auto Collision & Glass
Frame Repair Newark
Headlight Restoration Newark
Scratched Paint Repair Newark
Bumper Repair Newark
Auto Body Shop Newark
Auto Glass Replacement Newark
Auto Body Specialist Newark
Collision Repair Newark Ohio
Auto Body Repair Shops
Wheel and Rim Repair
Wheel and rim repair services are typically offered by autobody shops and automotive service centers. These services can include cleaning, balancing, and repairing wheels and rims. Cleaning can involve a thorough washing of the wheel to remove dirt, debris, and brake dust, and to make sure the wheel is free of rust.
Balancing can involve checking the weight distribution of the wheel and tire to ensure that the wheel performs at its optimal level. These services can include fixing bent rims, repairing cracks or damage, and replacing missing components.
Learn more about our Wheel and Rim Services
We offer a lifetime guarantee on all workmanship. Learn more about it on our Terms and Policies page.
What is the
I-CAR® Gold Class® certification?
Newark Autobody is proud to be a Gold Class® collision repair business. The Gold Class recognition indicates that our technicians are trained in the proper techniques and procedures that contribute to the complete and safe repair of your vehicle.
As a Gold Class shop, we require each of our technicians to take ongoing training every year. This includes classes on new vehicle technologies and the latest techniques.
Newark Autobody is among only 15 percent of collision repair businesses to achieve Gold Class status, whereas shops that are not Gold Class may train minimally or not invest in training at all. Gold Class shops are trained on how to fix your vehicle right; on what can be repaired and what needs to be replaced; and on how to see hidden damage you may not see.
Two out of three people find a repair shop by talking to friends or relatives. Don't take chances. Refer your friends and family to Newark Autobody and let our trained repair professionals take care of them today!
We guarantee  your complete satisfaction!
We're Experts
Our team has more than six decades of exerience in repairing autobody damage, auto paint, and auto glass.
We Keep learning
We invest in our team, sending them to classes to improve their skill base and keep up to date on the latest autobody technologies.
We're Local!
All our team live and work here in Licking County and surrounding areas. We are one of you!
We're focused
At a huge chain or car dealer, your repair can get lost in the shuffle. That won't ever happen at our shop! We focus on autobody repair, period.
Military Discount
Our Autobody Shop offers a 10% discount with your military identification. We value your service!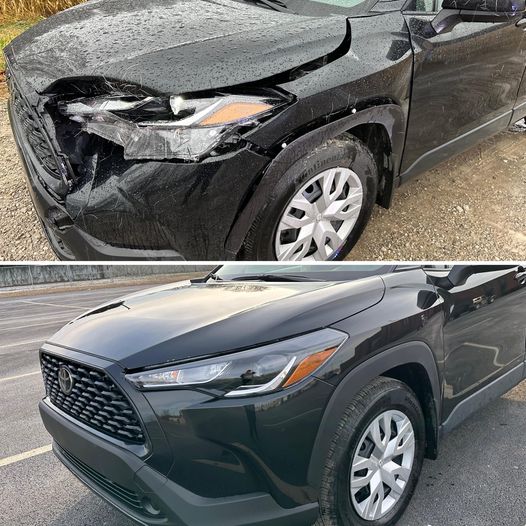 Facebook Review
I want to thank Newark Autobody Collision & Glass! They did such a great job fixing my car, great customer service, & helped me get my car back much sooner than expected. i highly recommend them! Thank you☺️
Tia Johnson
Google Review
"Best body shop to deal with. Friendly owner and staff. Lightening fast… dropped my truck on Monday and it was done on Wednesday. They did an excellent job!!"
Google Review
"From start to finish .. they made it super easy. Also Newark Auto body was very organized .. I had a huge crack in my windshield & it looks fabulous now. Thank you so much! I'll def be using you for anything that comes up in the future. 5 stars"
Tracy Delancey Culver
"
Google Review
"Amazing staff, they took my vehicle right in & gave great service i recommend them 100% & only took them 2 weeks i suggest if you need any collision repairs or any repairs at all give them a call!!!"
Ashley Robertson
"
Photo estimate
Our easy online photo estimate option makes it easy to get your repair started.
Lifetime Guarantee
Your vehicle is safe in our hands! Our work has a lifetime guarantee.
Book Appointment
Use our online scheduler to select a time that's convenient for you.